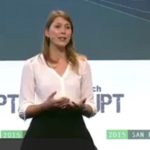 This is a guest post by Lea von Bidder, co-founder and President of Ava Science, a Swiss startup based in Switzerland and California. 
Lea published this post originally  on her Linkedin profile on Thursday 8th of March, the Women Day, and I thought this kind of excellent content should be spread as widely as possible… Do not hesitate to comment and to contribute with your opinion or ideas on how to change the problem Lea is describing!
---
As a female founder from Switzerland I am constantly prompted with questions about "How it feels to be a female founder". The truth is, it feels a little lonely.
At investor events, I am often the only woman in the room. But it's hard to reconcile this feeling when I read statistics like the one StartupTicker released on the Global Startup...